3-30mLifting Height 0.25t, 0.5t, 1t, 2t, 3t, 5t, 10t, 16t, 20t Electric Wire Rope Hoist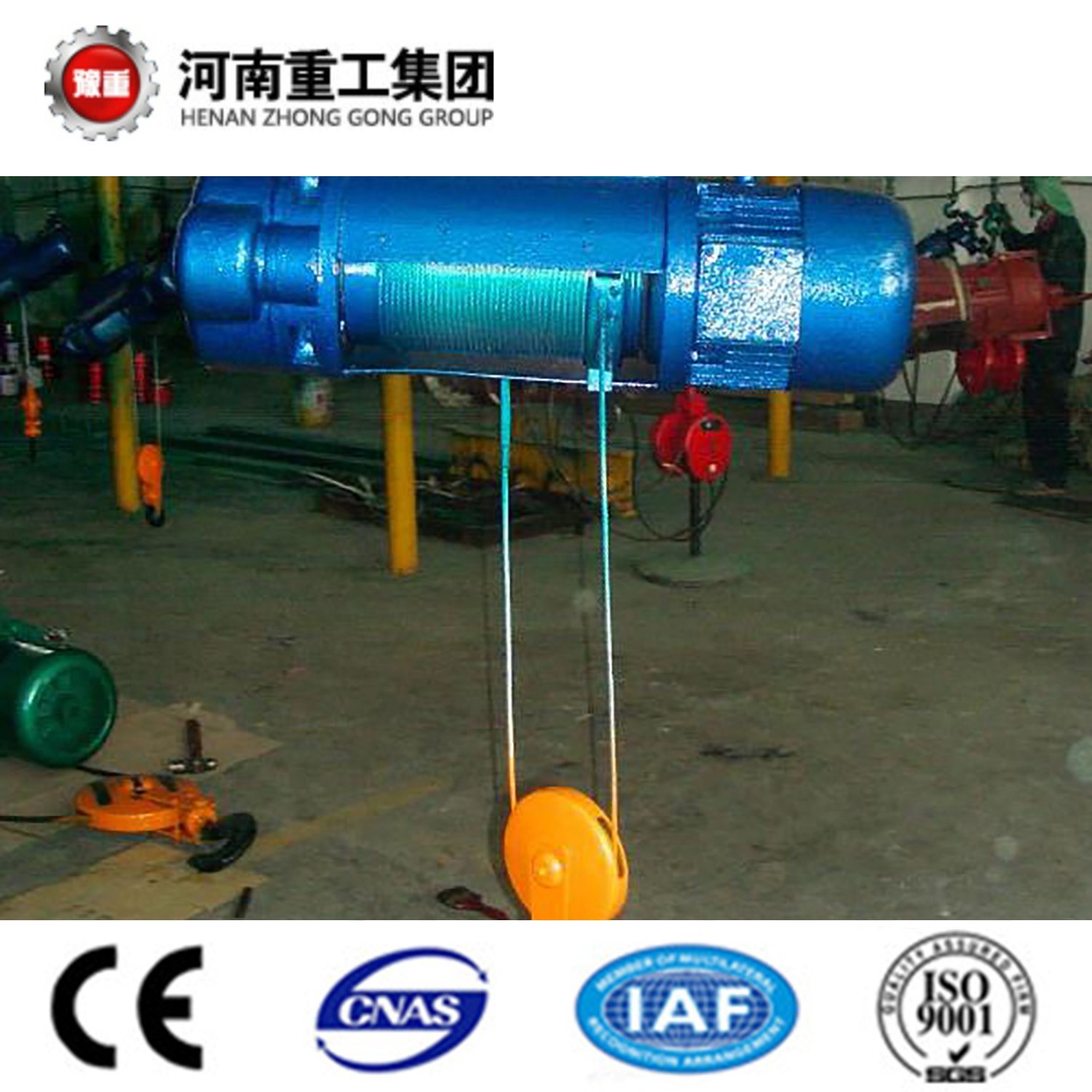 3-30mLifting Height 0.25t, 0.5t, 1t, 2t, 3t, 5t, 10t, 16t, 20t Electric Wire Rope Hoist image
Basic Info.
Certification
CE, ISO9001:2000, SGS
Lifting Capacity
0.25t-20t
Lifting Speed
CD1: 3.5/4/7/8m/Min; MD1:0.35/0.7/0.8m/Min
Traveling Speed
20/30m/Min
Power Supply
Customization
Overload Protection
Included
Emergency Stop System
Included
Warranty Period
15 Months
Free Service
Design, Spar Parts Supply
Transport Package
Wooden Case
Specification
China Standard
Production Capacity
50000 PCS/Year
Product Description
About Company: Henan Zhonggong Group Crane Technology Co., Ltd
1. With more than 30 years development, Henan Zhonggong Group has 5 holding subsidiaries, covers an area of 240,000 square meters and 100,000 square meters construction area, possesses nearly 1000 sets various producing equipements, is a member unit of Bridge Crane branch of "China Heavy Machinery Industry Association". now we have 1200 staff of which more than 160 professional engineers and management colleagues, company has passed ISO9001, ISO14001 and OHSAS18001. Brand "YUZHONG" products have been granted titles such as "Top 10 brand Well-Known Cranes in China", "Well-Known Commodity in Henan Province" and "Henan Famous Trademark".
2. Group R&D Center has been recognized as the engineering technology research center of cranes for application at Xinxiang nuclear power station and serves as the only China R&D in the nuclear area. company can supply electrical hoist, single girder crane, double girder crane, gantry crane, overhead crane, grab, explosion-proofinsulation crane, hydraulic hoist, container handling crane, ship crane, metallurgic crane, quenched crane, elecromagnetic series crane and special crane for nulear power station.
About Product: Single/Double Speed 0.25t, 0.5t, 1t, 2t, 3t, 5t, 10t, 16t, 20t electric wire rope hoist
1. Brief description
CD1 electric hoist has only normal speed, which can satisfy the general working requirement.<o:p>
MD1 electric hoist has one more hoisting motor and one slow speed actuating device, which make the model have two speeds. When it works slowly, it can satisfy the precise task such as precise working of loading and unloading, sand to break-in.

2. Applications
It can travel rotation through the trolley hanging on the I-steel, and install on the single beam crane, gantry crane, jib crane and overhang crane to rise and fall the cargos.
So it can be used in factories, mines, wharf, warehouse, freight yards, and shops and so on which need lifting equipment for lifting heavy objects. Such as mining companies and railways, docks, warehouses. It is prohibited to manned.

3. Components
Motor: Hoist Motor is an taper type rotor motor with braking,it is made by Nanjing special motor factory,it is of the best quality motors, it has bigger torque, so it can be adapted to moving frequently.
Trolley: It is assembled and has running wheels. Herein, the runner wheels are mounted on top-class sealed ball bearings.
Gear Box: Hoist Gear Box has specially treated gears for high wear resistance. Each Geared Shaft assembly is supported on ball or roller bearings , to ensure smooth, low-friction operation.
Wire Rope: Hoisting rope comply with the exporting ISO standards. The leading rope taken by the Drum, does not slip sideways when slack. The factor of safety, on the nominal breaking strength of the rope is six.
Rope Drum: Grooved Drum, seamless pipe of adequate length to be wounded in one layer and to provide proper support for the rope to minimize abrasive wear is provided. Drum Shaft resolves on Ball Bearings for ensuring smooth running.
Electric control system: Model CD1 and MD1 is composed of the contactor box,controlling switch,cut-off limiter.the working voltage of controlling switch is 380V,36V or 24V(safety voltage).
Rope Guide: Rope Guide is in two halves, ensuring easy accessibility. It encircles the Drum completely so that the rope may not uncoil even when the Hoist is in unloaded condition.
Hook: The Hook Block is tested to 150 % of full load before assembly. The rope sheaves are fully guarded with protective steel casting .
Testing: All our Hoists are tested on 125 % thus assuring safe working load and is issued with a test certificate.

CD1/MD1 Hoist After-sale Service
1.One year warranty for whole machines from running
2.Providing free spare parts
3.Low charge for continue maintenance when warranty is expired
4.Exclusive engineer support at any time
5.We can provide free training to end-users
Workshop show:

Capacity (ton)
0.5
1
2
3
5
10
16
20
Lifting height (m)
6, 9, 12, 18,24,30
Working duty
M3
M6
Control way
Pendant control, or Remote control
Power source
380V 50HZ 3phase (Could supply it as yours)
I-beam type
16-28b
20a-32c
25a-63c
45a-63c
Lifting mechanism
Electric hoist model
CD1 single speed, MD1 double speed
Wire rope
Diameter
4.8
7.4
11
13
15
15
17.5
20
Structure form
D-6×37+1
Lifting speed (m/min)
Single
8
7
3.5
Double
0.8 / 8
0.7 / 7
0.35/3.5
Motor power (KW)
Single speed
0.8
1.5
3
4.5
7.5
13
13
18.5
Double speed
0.2/0.8
0.2/1.5
0.4/3
0.4/4.5
0.8/7.5
1.5/13
1.5/13
3.0/18.5
Rotation speed (n/min)
1380
1400
Traveling mechanism
Traveling speed (m/min)
20 or 30
Motor power (KW)
0.2
0.2
0.4
0.4
0.8
2×0.8
2×0.8
4×0.8
Rotation speed (n/min)
1380
We are China 3-30mLifting Height 0.25t, 0.5t, 1t, 2t, 3t, 5t, 10t, 16t, 20t Electric Wire Rope Hoist manufacture and supplier,You can get more details with Email,you will get cheap price or factory price.
Tags:
Electric Wire Rope Hoist
,
Hoist
,
Wire Rope Hoist