3-20t Double Girder Traveling EOT Crane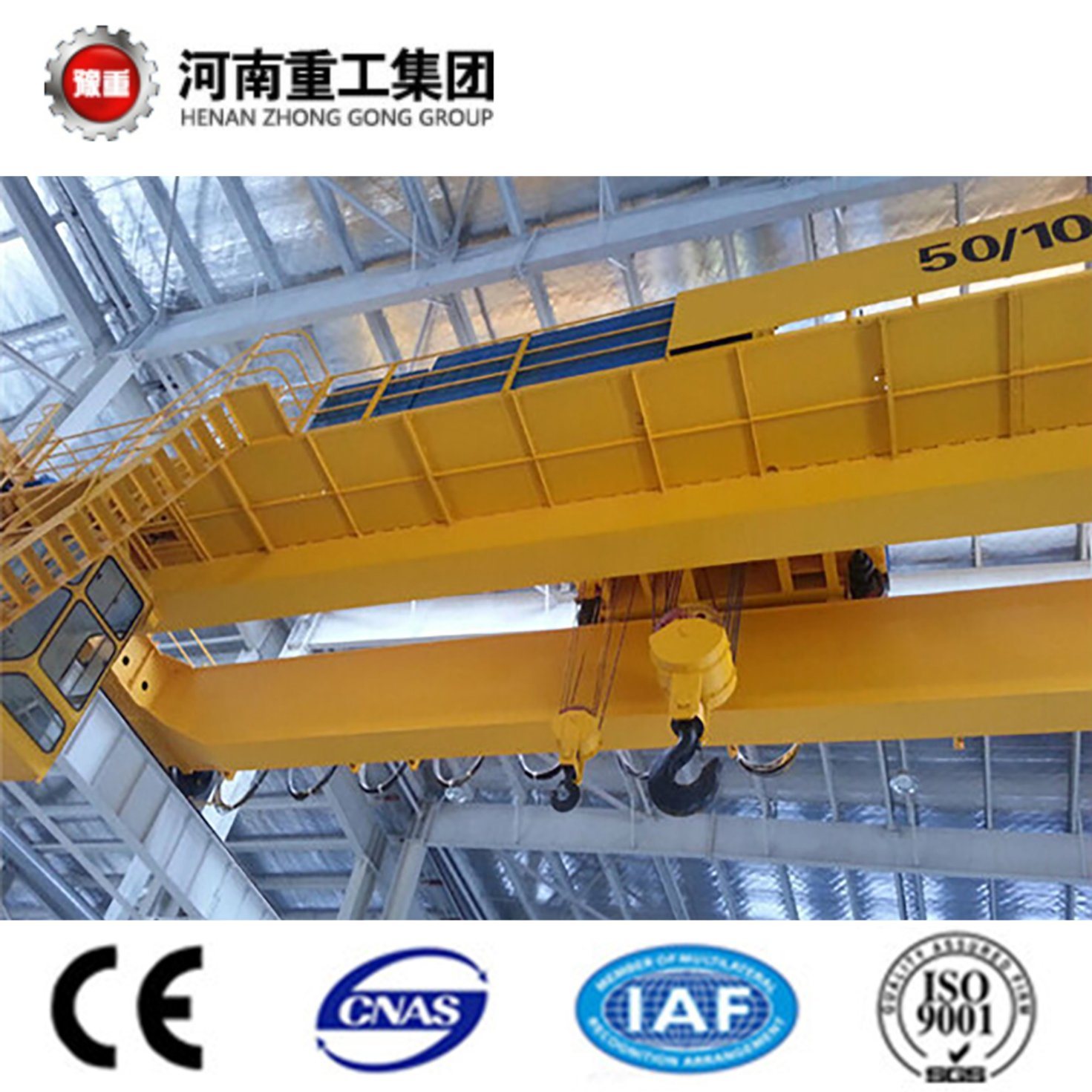 3-20t Double Girder Traveling EOT Crane image
Basic Info.
Current Overload Protection System
Included
Voltage Lower Protection Function
Included
Weight Overload Protection Device
Included
Paiting Color
Red/Yellow/as Per Demand
Control Stype
Cabin/Remote Control/Wireless Control
Guarantee Period
12 Months
Transport Package
High Quality Plywood Crate and Plastic Woven Cloth
Specification
China Standard
Origin
Changyuan, Henan, China
Production Capacity
10000 PCS/Year
Product Description
About Company: Henan Zhonggong Group Crane Technology Co., Ltd
1. With more than 30 years development, Henan Zhonggong Group has 5 holding subsidiaries, covers an area of 240,000 square meters and 100,000 square meters construction area, possesses nearly 1000 sets various producing equipements, is a member unit of Bridge Crane branch of "China Heavy Machinery Industry Association". now we have 1200 staff of which more than 160 professional engineers and management colleagues, company has passed ISO9001, ISO14001 and OHSAS18001. Brand "YUZHONG" products have been granted titles such as "Top 10 brand Well-Known Cranes in China", "Well-Known Commodity in Henan Province" and "Henan Famous Trademark".
2. Group R&D Center has been recognized as the engineering technology research center of cranes for application at Xinxiang nuclear power station and serves as the only China R&D in the nuclear area. company can supply electrical hoist, single girder crane, double girder crane, gantry crane, overhead crane, grab, explosion-proofinsulation crane, hydraulic hoist, container handling crane, ship crane, metallurgic crane, quenched crane, elecromagnetic series crane and special crane for nulear power station.
LH type Overhead/Bridge Crane with Electric Hoist

Brief Introduction
LH double girder overhead crane systems with trolley is the most popular crane for all types of workshop.
It is composed of box type bridge frame, lifting trolley, crane traveling mechanism and electrical system.
It employs fixed electric hoist, which is fitted on trolley frame as the hoisting mechanism.

It could be used in mechanical processing workshop, metallurgical factory and subsidiary workshop, warehouse, material yard and power plant for transferring, assembly, inspection maintenance and loading procedures.

It can also replace common overhead crane, used in light textile industry and food industry manufacturing Workshop.

Basic Parameter
Lifting capacity: 3~20ton
Span: 10.5-31.5m
Lifting height:3~35m
Working Class: A3-A5
Working System: 25%
Power Supply: 380/415/440V or As per your demand
Ambient Working Environment: -25-40 degree
Control Method: Cabin/Pendent Control/Wireless Control

Components
Crane girder:
The crane girder is of welded girder construction. This result in lower dead weight with a high degree of vertical and horizontal rigidity and small wheel loads being transmitted to the crane runway!

Motors: The motors are used specially crane duty suitable for frequent starting, reversing & braking in accordance with ISO 9001: 2000 ISO 14001: 2004. Motors are totally enclosed in dust proof construction foot / flange mounted TESC / TEFC, Sq. Cage motors with integrated safety brakes, insulation class F, IP54 protection for hoisting, CT & LT motions.
Brakes: Independent Hydraulic Brake make the crane more safe and easier to control
Gear Box: The entire gear boxes are made of accurate hob cut helical / spur gears & pinions having hardness 250 to 350 BHN made from carbon alloy steel. All gears & pinions running on anti friction type ball / roller bearings in totally enclosed oil bath giving constant splash lubrication. The helical / Spur gear designed for adequate strength and optimum wear resistance for smooth operation & long life.
Wheels: The wheels of crane crab, main beam and end carriage are produced in our special Vacuum casting workshop (No sand inclusion tech) which make our wheels more elastic and outer surface hard-wearing and durable.
Electrical Panel:Modular design, ease to install and maintain, reliable operation, fuse less circuitry, ducted wiring and compact terminals. Motor overload protection to prevent overloading.
Optional Features:
Variable speed through VVF Drive
Soft starter
Slipring motors
Wireless Radio Remote control
Shrouded DSL system for power feeding
Flameproof
Cabin Operated
PLC automatic Control system

Painting color
Primer and finishing paint,
Color:According to your demand,
Average thickness:About 100microns,
Power supply380V/50HZ or according to your demand
Hoisting mechanism: Electric hoist trolley

Safety features
1.Limit switch
2.Overload stop device for hoisting
3.Long bearing buffer for crane traveling
4.Power failure backup
Packing and shipping

Looking forward to receive your enquiry with the below details information:
1. lifting capacity.
2. span length. (cantilever length)
3. lifting height. (hook center to ground)
4. Power supply: Voltage.
5. Do you need rails? How long is the crane traveling distance?
6. Working condition: which material to lift? temprature?
7. Would be better if you have drawings of your plant.
After-sale Service
1. One year warranty for whole machines from crane running
2. Providing free spare parts
3. Low charge for continue maintenance when warranty is expired
4. Exclusive engineer support at any time
5. We can provide free training to end-users

Lifting capacity (t)
3
5
10
16
20
Span (m)
10.5-31.5
Control type
Cabin control or Pendent ground control
Lifting height (m)
6/18
9/18
6/18
Speed
Lifting
8,8/0.8
7, 0.7/7
3.5, 0.35/3.5
6, 0.6/6
m/min
Trolley
20
Crane
Pendent
20 (30)
20
Cabin
20 (30)
20
Motor
Lifting
ZD132-4/4.5
ZD141-4/7.5
ZD151-4/13
ZD151-4/13
ZD152-4/18.5
ZDS132-0.4/4.5
ZDS1- 0.8/7.5
Trolley
ZDY121-4
ZDY121-4
ZDY121-4
ZDY121-4
ZDY122-4
0.8×2
0.8×2
0.8×2
1.5×2
1.5×2
Crane
Pendent
//
//
//
//
//
Cabin
//
//
//
//
//
Electric Hoist
CD1 / MD1
Work duty
A4 A5
Power supply
380V, 50Hz, 3-phase
Recommended rail (kg/m)
38-43
Max. wheel loading (Kn)
38.6-124.3
51.5- 124.3
80.8-178
110-225.4
132.6-255.8
Weight
Pendent control
5.2- 19.9
5.7-21.8
7.2-25.2
8.3-26.9
11.3-30.1
(t)
Cabin control
6- 20.7
6.5-23.1
8.0-26.5
9.1-28.2
12.1-31.4
We are China 3-20t Double Girder Traveling EOT Crane manufacture and supplier,You can get more details with Email,you will get cheap price or factory price.
Tags:
Crane
,
Eot Crane
,
Overhead Crane