2t Remote Control Wire Rope Electric Hoist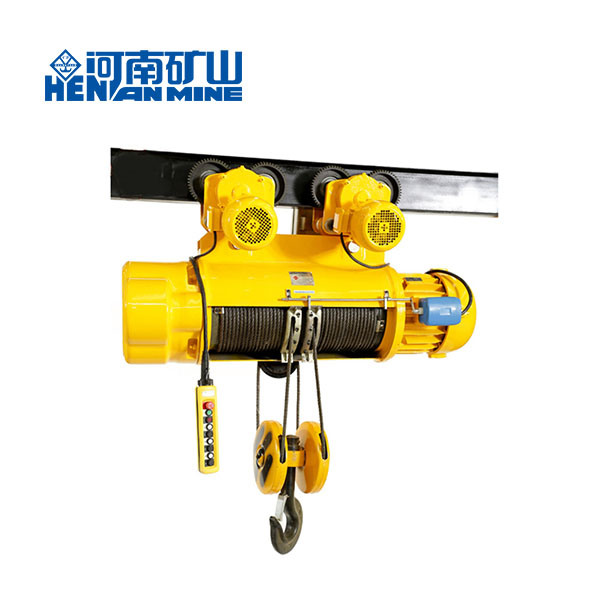 2t Remote Control Wire Rope Electric Hoist image
Overview
Product Description
Detailed Photos
Product Parameters
Packaging & Shipping
Company Profile
Our Advantages
FAQ
Basic Info.
Certification
CE, ISO9001:2000, BV GOST SGS
Weight Overload Protection Device
Include
Voltage Lower Protection Function
Include
GB/T 24001-2004 Idt ISO14001: 2004
Pass
GB/T 19001-2000 Idt ISO 9001: 2000
Pass
Painting Color
According to Your Demand
Current Overload Protection System
Include
GB/T 28001-2001, Ohsas18001: 1999
Pass
Industrial Voltage
According to Your Demand
Electric Hoist Double Limit
Include
Transport Package
Packed by Plywood Crate All by Export Standard
Specification
China National standard
Origin
Xinxiang, Henan Province
Production Capacity
28, 000 Sets/Year
Product Description
2t Remote Control Wirerope Electric Hoist
CD1 MD1 wire rope Electric hoist is a small-sized lifting equipment, which can be mounted on single beam, bridge, gantry and jib cranes. With slight modification, it can also be used as a winch. It is widely used in factories, mines, harbours, warehouses, cargo storage areas and shops, is essential in raising working efficiency and improving working conditions.
Model CD1 electric hoist has only one normal speed and low speed, which can satisfy normal application, model MD1 electric hoist provides two speeds: Normal speed and low speed. Thus model MD1 electric hoist is more widely used than model CD1.
Electric wire rope Hoist is assembled from different independent units. All these units are separately accessible and promptly disassembled cost and downtime.
Motor: Hoist Motor is an taper type rotor motor with braking, it is made by Nanjing special motor factory, it is of the best quality motors, it has bigger torque, so it can be adapted to moving frequently, the Maximum torque is 2.4-3 times than the rated torque.
Gear Box: Hoist Gear Box has specially treated gears for high wear resistance. Each Geared Shaft assembly is supported on ball or roller bearings, to ensure smooth, low-friction operation.
Wire Rope: Hoisting rope comply with the exporting standards. The leading rope taken by the Drum, does not slip sideways when slack. The factor of safety, on the nominal breaking strength of the rope is six.
Rope Drum: Grooved Drum, seamless pipe of adequate length to be wounded in one layer and to provide proper support for the rope to minimize abrasive wear is provided. Drum Shaft resolves on Ball Bearings for ensuring smooth running.
Electric apparatus controlling system: Model CD1 and MD1 is composed of the contactor box, controlling switch, cut-off limiter.
Rope Guide: Rope Guide is in two halves, ensuring easy accessibility. It encircles the Drum completely so that the rope may not uncoil even when the Hoist is in unloaded condition. The rope guides of our company is thicken and dilated, so that it is not easy to be damaged.
Hook: The Hook Block is tested to 150 % of full load before assembly. The rope sheaves are fully guarded with protective steel casting. All sheaves rotate on ball bearing. The pulley is thicken and dilated than domestic common pulley.
Type
Single speed electric wire rope hoist
Cap.
t
0.25
0.5
1
2
3
5
10
16
20
Hook Path
m
3/6/9/12/18/24/30
Speed
Hoisting
m/min
8
7
3.5
4
Travelling
20/30
Wire
Rope
Dia.
mm
3.6
4.8
7.7
11
13
15
17.5
19.5
Construction
6*19
6*37+1
6*37+1
6*37+1
6*37+1
6*37+1
6*37+1
6*37+1
6*37+1
Track
16-22b
16-28b
16-28b
20a-32c
20a-32c
25a-45c
32b-63c
45b-63c
56b-63c
Motor
Hoisting
Type
ZD112-4
ZD121-4
ZD122-4
ZD131-4
ZD132-4
ZD141-4
ZD151-4
ZD151-4
ZD152-4
Power
kw
0.4
0.8
1.5
3
4.5
7.5
13
13
18.5
Rotation
speed
r/min
1380
Current
A
1.25
2.4
4.3
7.6
11
18
30
30
41.7
Travelling
Type
ZDY110-4
ZDY110-4
ZDY111-4
ZDY112-4
ZDY112-4
ZDY121-4
ZDY121-4
ZDY121-4
ZDY121-4
Power
kw
0.06
0.2
0.4
0.8
0.8*2
Rotation
speed
r/min
1400
1380
Current
A
0.3
0.72
1.25
2.4
Connecting Times
120
Working system
intermediate FC=25%
Power source
3P AC 380V 50Hz or according to your requirements
Henan Mine Crane Co., Ltd. was established in 2002 with a registered capital of 1.177 billion yuan, construction area of 1.62 million square meters, more than 4500 employees and more than 3500 sets of advanced processing equipment.
Specializing in the R & D, production, sales and service of more than 110 kinds of cranes and supporting parts in three series of "Kuangyuan" brand bridge cranes, gantry cranes and electric hoists.
Our company is a national high-tech enterprise with a technical team composed of more than 10 industry top experts and more than 200 middle and senior engineers. It is responsible for the innovative design and development of products. At present, it has obtained more than 300 national patents and provincial scientific and technological achievements
In 2020, the production and sales of all kinds of single beam and double beam lifting equipment will be nearly 100,000 sets, with sales of 5.675 billion yuan and tax payment of 205 million yuan. The company has 428 sales and service organizations all over the country, serving more than 6000 medium and high-end customers, and has made remarkable achievements in more than 50 key industries such as aerospace, automobile and ship, steel smelting, petrochemical industry, electronic information, electric power industry, water conservancy, railway and military industry.
The developed intelligent storage crane, precision positioning crane, automatic container gantry crane, nuclear grade special crane, clean explosion-proof automatic crane, multi fulcrum flexible crane, simulated maritime rescue crane and other sophisticated products serve Baosteel, China Railway, MCC, CNNC, AVIC and other large enterprises. The products cover more than 80 countries and regions.

We have rich experience in production and export:
We have exported our cranes to Australia, Bangladesh, Iraq, Pakistan, Philippines, USA, Egypt, Peru, India, Turkmenistan, Singapore, Ethiopia, South Africa, Saudi Arabia, Malta, Albania, Ukraine, Vietnam, Kenya, Nigeria, UAE, Cameroon, Uruguay, Bahrain, Thailand, Kazakhstan, Germany, Sultan,
Chile, Oman, Romania, Malaysia, Armenia, Jordan and so on, received good confirmation and welcomed from them!
We are China 2t Remote Control Wire Rope Electric Hoist manufacture and supplier,You can get more details with Email,you will get cheap price or factory price.
Tags:
Electric Hoist
,
Moveable Hoists
,
Wirerope Elctric Hoist