10 Ton Single Girder Gantry Crane with Electric Trolley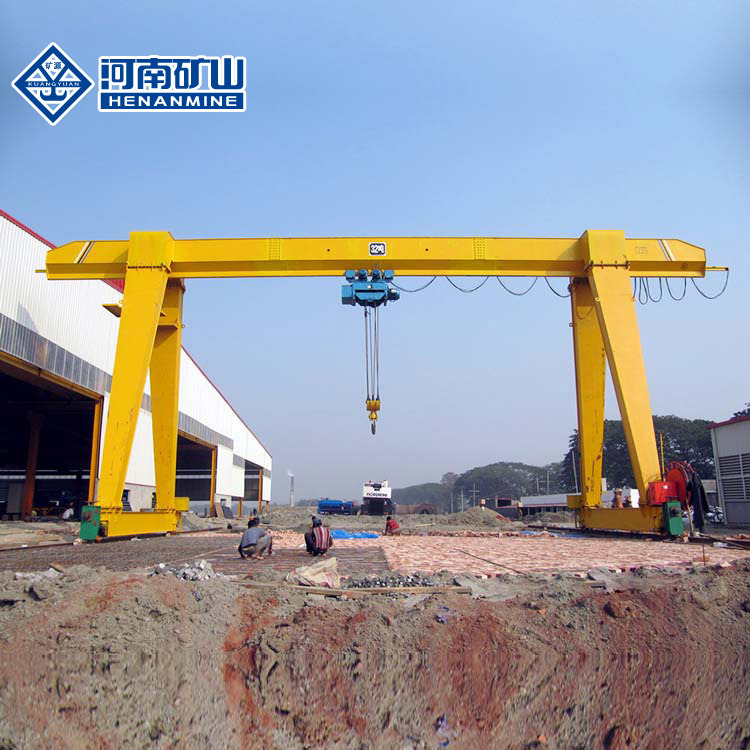 10 Ton Single Girder Gantry Crane with Electric Trolley image
Basic Info.
Main Girder Form
Single Girder
GB/T 24001-2004 Idt ISO14001: 2004
Passed
GB/T 19001-2000 Idt ISO 9001: 2000
Passed
GB/T 28001-2001, OHSAS18001: 1999
Passed
Lifting Mechanism
Electric Hoist or Trolley
Main Electrical Parts
Siemens or Chint Brand
Weight Overload Protector
Included
Current Overload Protector
Included
Painting Color
Yellow, Blue, Red, Green and Your Other Requirem
Application
Workshop Usage, Construction Usage
Power Source
220-440V50~60Hz3phac
Transport Package
High Quality Paywood Box
Specification
ISO Standards
Origin
Xinxiang City, Henan Province , China Mainland
Production Capacity
20000 Sets/Year
Product Description
10 Ton Single Girder Gantry Crane With Electric Trolley
MH type single girder gantry crane has box type and truss type, the former have good techniques and easy fabrication, the latter is light in dead weight and strong in wind resistance. For different usage, MH gantry crane also has cantilever and noncantilever gantry crane. If have cantilevers, the crane can load the goods to the crane edge through the supporting legs which is very convenient and high efficiency.
STRUCTURE CLASSIFICATION
(a) Class of utilization – U7 (two million loading cycles)
(b) State of loading – Q 2
(c) Group classification – A 7
(d) Impact factor – 1.3
(e) Duty factor – 0.95
(f) Nominal load spectrum factor – 0.63 of rated capacity.
(Or as your requirement)

MAIN HOIST::
The wire ropes reeving configuration, and sheaves of the main hoist system designed to ensure that wire ropes do not dislodge from the sheaves (or jump off sheave groove) under any operating condition. The design shall prevent excessive slackening of the main hoist ropes and also limit the hoisting speed when the ropes are slack. Slack rope condition monitored through the load cells and back-up by limit switches installed at the girder end. Load cells provided for every hoist ropes.
AC motors used for the main hoist system. The motors coupled to the reducer through gear couplings or flexible coupling.
Two sets of fail safe disc brakes assemblies be fitted on the drive. The braking torque of each set of brakesat least 150% of rated load torques. Normal container handling operation with loads up to the rated capacity possible with only one set of brakes.

Main Parts of MH model gantry Crane:
SPREADER LIST, TRIM AND SKEW ADJUSTING DEVICES:
The Crane equipped with spreader tilt and skew adjustment devices. The devices of sufficient stroke to tilt the spreader with a rated load to at least ±3 degrees (about a vertical plane). Sufficient clearance maintained between any part of the spreader (with flipper at raised position) and crane structures (e.g walkway leading to operator cabin) especially when trolling and spreader is tilted or skewed to the maximum. Tests for above requirement conducted during acceptance, testing and commissioning of the cranes.

OPERATOR'S CABIN
The operator's cabin firmly secured in a fail safe manner. The roof inclined
to drain away rain water. Safe passage or walkway provided from the yard side leg to enable the operator to enter the cabin from the rear through a sliding door. Safe and easy
escape from the cabin at any trolley position made possible for emergency purposes
without having to move the trolley back to the parking position.
It's not suitable for lifting blazing & melting metal or toxicant
as well as explosion-proof or insulating working conditions.

Lifting Capacity

T

5

10

16/3.2

20/5.0

32/5

50/10

Span

M

18-35

Lifting Height

Main Hook

M

10; 11

10; 11

10; 11

10; 11

10; 11

11

Aux Hook

10.5; 11.5

10; 11

10.85; 11.85

12

Working System

A5

Speed

Hoisting

Main Hook

M/MIN

12.5

9.82

9.7

9.3

7.6

7.8

Aux Hook

22.3

19.8

19.8

12.3

Crane Travelling

39.5

40.4

39.7

39.7

38.6

38.5

Trolley Travelling

46-40

39.5; 40

46; 39.5; 40

39.5; 40

49; 54

56

Trolley Weight

T

2.95

4.25

8.31

9.07

12.8; 13; 13.1

22.1

Total Weight

Sliding Line

T

31.2-50.5

40-60.8

47.6-71

52.5-78.9

70.9-99.8

121.5

Electric Cable

32.4-51.7

41.2-62

48.8-72.3

53.7-80.1

72.1-106

123

Max Wheel Load

KN

176-228

217-286

292-375

333-423

225-284

330

Steel Rail recommended

P43

Power Source

380V 50HZ 3 Phase
Main Product
Henan Mine Crane meet the demand factory, workshop, port, mining, waste disposal, goods scattered, petrochemical, aerospace, and other industries of universal bridge crane, overhead crane price 20 ton 5ton, eot crane, door crane, universal gantry crane, rubber tyre and rail mounted container gantry crane, four link type portal crane, quayside container crane, crane, crane hook, mining grab crane, gantry crane, ship loader, grab bucket ship unloader, stacker reclaimer, dredger, mobile platforms and other types of hydraulic crane.
We are China 10 Ton Single Girder Gantry Crane with Electric Trolley manufacture and supplier,You can get more details with Email,you will get cheap price or factory price.
Tags:
Gantry Crane
,
Hoist Gantry Crane
,
Wire Rope Electric Hoist