10 Ton Single Beam Goliath Crane (MH)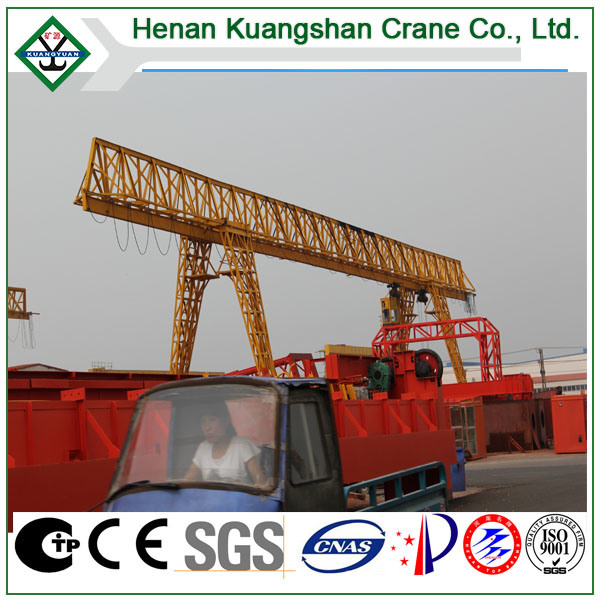 10 Ton Single Beam Goliath Crane (MH) image
Basic Info.
Weight Overload Protection Device
Include
Voltage Lower Protection Function
Include
GB/T 24001-2004 Idt ISO14001: 2004
Pass
GB/T 19001-2000 Idt ISO 9001: 2000
Pass
Painting Color
According to Your Demand
Current Overload Protection System
Include
GB/T 28001-2001, OHSAS18001: 1999
Pass
Electric Hoist Double Limit
Include
Application
Mineral Area Workshop Construction Usage
Tower Crane Type
Under Slewing Cranes
Transport Package
Packed by Plywood Crate and Plastic Woven Cloth.
Specification
China National standard
Origin
Xinxiang, Henan Province
Production Capacity
18, 000 Sets/Year
Product Description
Single beam goliath crane
This crane is normally matched with CD MD hoist, easy control, low cost. Applied outside to do common loading and unloading with strong winch.
Description:
ELectric single beam gantry crane with hook is applied outside warehouse or railway sideways to do common lifting and unloading works, this kind of crane is composed of bridge, support legs, crane traveling organ, electric equipment, strong lifting winch, the frame adopts boxed-type welding mechanism, crane traveling mechanisms are operated in the driver cabin or remote control, Power is supplied by cable or slide wire.
Safety feature:
Weight overload protection device, Top quality long time bearing polyurethane materials buffer, Crane traveling limit switch, Voltage lower protection function, Emergency stop system, current overload protection system and so on!
Control method:
Pendent line with press button or remote control or cabin or both
Design and construction rules:
All the standards which is required for the crane is the Chinese standard
Shipment:
We have exported our crane to United States, India, Pakistan, Egypt, Bangladesh, Philippines, Australia, Malaysia, Singapore, Malta, Turkmenistan, Saudi Arabia, Peru, Ethiopia, Malta, Albania, South Africa and so on
Capacity
T
3
5
10
16
20
Span
m
12, 16, 20, 24, 30
Operational method
Pendent Line With Press Button /Cabin/ Remote
Speed
Lifting

m/min
8, 8/0.8
8, 8/0.8
7, 7/0.7
3.5
3.5
Cross travelling
20
20
20
20
20
Long travelling
Ground
20
20
20
20
20
Cabin
20, 30, 45
20, 30, 40
30, 40
30, 40
30, 40
Motor
Lifting
Type /kw
ZD41-4/4.5
ZDS1-4/0.4/4.5
ZD141-4/7.5 ZDS10.8/4.5
ZD151-4/13 ZDS11.5/4.5
ZD151-4/13
ZD152-4/18
Cross travelling
ZDY12-4/0.4
ZDY121-4/0.8
ZDY21-4/0.8× 2
ZDY121-4/0.8× 2
YZD-4/0.8× 4
Long travelling
Ground
ZDY21-4/0.8× 2
ZDY21-4/1.5× 2
YZY22-4/1.5× 2
YZR132M2-6/3.7× 2
YZR22-4/1.5× 2
YZR160M1-6/6.3× 2
YZR160M2-6/8.5× 2
YZR160M1-6/6.3× 2
YZR160M2-6/8.5× 2
Cabin
ZDR100-4/1.5× 2
ZDR112-4/2.1× 2
YZR112L1-4/2.1× 2
YZR160M1-6/2.1× 2
YZR112L1-4/2.1× 2
YZR160M2
YZR160M2-6/8.5× 2
YZR160L2-6/11× 2
YZR160M2-6/8.5× 2
YZR160L2-6/11× 2
Electric hoist
Model
CD1/MD1
CD1/MD1
CD1/MD1
CD1
HC
Lifting height
m
6, 9
Working duty
A3
Power supply
380V 60HZ 3phase AC (According to your demand )
We are China 10 Ton Single Beam Goliath Crane (MH) manufacture and supplier,You can get more details with Email,you will get cheap price or factory price.
Tags:
Gantry Crane
,
Hook Gantry Crane
,
Material Handling Equipment